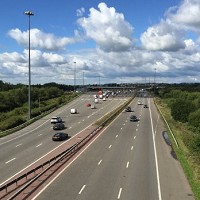 Drivers crossing the England-to-Wales Severn Bridge should not have to pay a penny in tolls, according to Ukip leader Nigel Farage.
Motorists making the Wales-bound journey currently have to pay £6.50.
This levy increases to £13.10 and £19.60 for drivers of vans and lorries respectively who set their journey planner via the two bridges.
Mr Farage visited the South Wales area on Tuesday and says the charge should be scrapped altogether when the twin bridges are taken into state ownership in three years' time. Mr Farage claims the bridges' cost will have been paid off by then.
He calls the fee "expensive" and "outrageous", comparing it to Wales placing a massive signpost over the M4 proclaiming that the country is "closed for business."
The public is also "strongly" against toll roads, Mr Farage added.
Mr Farage says the tolls are a false economy. Getting rid of them would put an extra £107 million into the economy every year, he says.
Any loss to public coffers could be further offset by choosing a less expensive form of the proposed relief road on the M4 around Newport, which is currently estimated at £1 billion, Mr Farage added.
The call to scrap the tolls was last made by Ukip and Liberal Democrat politicians prior to May's General Election.
Westminster is currently responsible for these bridges. The Welsh Assembly's Labour group wants these powers devolved, however.
Copyright Press Association 2015
%20http:/www.rac.co.uk/route-planner/ (journey planner)