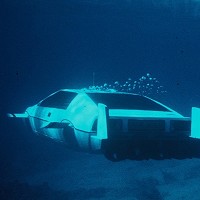 James Bond fans are preparing to Q up and bid for the famous white Lotus Esprit Series 1 'submarine' car when it goes under the hammer in September.
Few movie-goers will forget the sight of Roger Moore driving the Lotus from the sea onto a beach in full view of startled holiday-makers in the 1977 Bond film The Spy Who Loved Me.
When ordinary cars become submerged, their owners would normally need to use their breakdown cover , but this particular Lotus isn't any ordinary car.
Not only was it armed to the teeth with weapons and packed full of gadgets, 'Wet Nellie' as it was known by cast and crew, was built as an underwater car by Perry Oceanographic, of Riviera Beach, Florida.
The fully-operational and self-propelled 'sub' is said to have cost more than $100,000 to put together and the equivalent cost today would be around half a million dollars.
It is often described as the most popular car ever seen in movies, making the sale a one-in-a-lifetime opportunity for collectors.
It is to be sold to the highest bidder at RM Auctions' sale on 8-9 September in Battersea Park, London. Managing director Max Girardo said the company has auctioned some iconic movie cars in the past, but the Lotus will be one of the most famous it has ever been involved with.