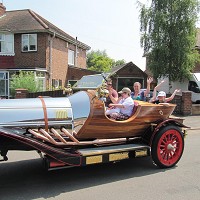 A 10-year-old leukaemia sufferer's dreams have come true - thanks to the flying car star of his favourite film, Chitty Chitty Bang Bang.
Oliver Burton, who also has Down's syndrome, got the chance to ride in the original 17ft vehicle from the 1968 film starring Dick Van Dyke.
The movie was the first thing to put a smile on the three-year-old boy's face since he was diagnosed with acute lymphoblastic leukaemia (ALL).
The meeting with Radio 2 DJ Chris Evans' car was arranged by Make-A-Wish Foundation UK, which grants such treats to children and young people fighting life-threatening conditions.
The vehicle set itsjourney planner to Oliver's Leicester home before taking him to Bradgate Park where he enjoyed a picnic with loved ones.
Oliver has spent lots of his time in and out of hospital.
He relapsed for the fourth time only a few months ago.
His mother Catherine said: "Oliver was overwhelmed on the day of his wish. He wanted the car to fly. We had to tell him there was a hole in the wing but he said his grandad would fix it. We are trying to make the most of every day."
Copyright Press Association 2013