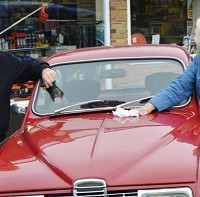 A retired garage owner has been reunited with a car he fell in love with 43 years ago - after his son unwittingly bought it at auction.
In an amazing coincidence, James Edwards successfully bid for the 1972 model without knowing that his father John had sold the same motor from new around 43 years ago.
Mr Edwards senior, 81, grew to love the vehicle over the years and had even hung a picture of it at Westbury Garage, in Shrewsbury, Shropshire, when he was director there.
His son spotted a 1972-reg Saab 96 up for sale at Chippenham-based Richard Edmonds Auctions in Wiltshire, but l ittle did he know that it was the same BAW 77IL-reg vehicle his father had sold for £1,023.
James, who took over the garage after his father's retirement 19 years ago, intends to exhibit the car for his business as well as using it for private use.
He is currently researching the machine's past and anyone who might be able to help can get in touch by ringing 01743 441445.
James has spoken of his "amazement" at the coincidence.
He only knew of the local link as the number plate showed it had been registered in Salop, the old name for Shropshire.
Mr Edmonds, the auctioneer, says his team felt "blown away" by the Edwards' story, adding that he believes he has played the matchmaker between John and the car he loved.
The Saab 96 is still in "fabulous" nick, he says, and, although they were once common sights on Britain's roads, they are hardly ever sold at auction these days.
Motoring News articles do not reflect the RAC's views unless clearly stated.
Copyright Press Association 2015