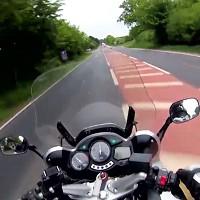 A heartbroken mother hopes releasing footage of her son riding his motorcycle moments before he died in a collision with a car will help prevent similar accidents in the future.
Brenda Holmes' 38-year-old son David died in June last year when he was riding his bike on the A47 in Norfolk at 97 mph and hit a car crossing in front of him.
A camera on Mr Holmes' crash helmet filmed the footage, including the moment of the collision, and his family have allowed Norfolk Police to use some of it in a powerful new road safety film.
Although it has some footage that people might find distressing, there are no graphic images in the film as it doesn't show the actual collision.
Norfolk Police is well aware that the film is likely to cause controversy but thinks it might well make motorcyclists and other motorists more safety concious.
Mrs Holmes, from North Walsham in Norfolk, is desperate for other families to avoid the pain hers feels every day and hopes it will prevent future road deaths.
Copyright Press Association 2014