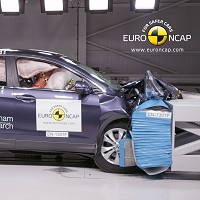 Two new family cars from Citroen and Honda have achieved the top five-star Euro NCAP safety rating.
The Honda CR-V and the Citro'n C4 Picasso were given top marks in the scheme, which converts a vehicle's overall safety performance into a single score based on occupant protection, child protection, pedestrian protection and the availability of driver aids.
A car with a good safety record may appeal to consumers in the hope that it translates into a cheaper car insurance quote as well as the peace of mind it provides.
Euro NCAP meanwhile has also awarded two braking systems with advanced rewards for their safety features.
It gave the accolade to the Mitsubishi Forward Collision Mitigation, available on the Mitsubishi Outlander tested in 2012, that is designed to alert the driver to an imminent threat of rear end collision.
And the City Brake Control system, available as an option on the Fiat Panda and 500L, also received the award as it helps the driver to avoid low-speed crashes by optimising the braking autonomously if needed.
Copyright Press Association 2013