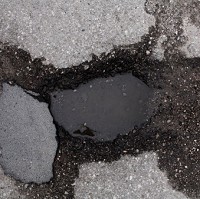 A family's car was swallowed by a 30-foot deep sinkhole which opened up on the driveway of a house in a Buckinghamshire village.
Thankfully nobody was in the parked Volkswagen Lupo when it disappeared down the hole on the property in Main Road at Walter's Ash near High Wycombe.
The incident happened at around 8.30am on February 2 and will make for a uniquecar insurance claim should one be lodged. Firefighters called out to the incident spent an hour at the scene, cordoning off the sinkhole, which measures 15 feet across, and giving safety advice to local residents before handing it over to Wycombe District Council's building control department.
A spokesman for Buckinghamshire Fire and Rescue Service said: "Firefighters were called to a sinkhole (30ft deep, 15ft diameter) which swallowed a parked car in the driveway of a house in Main Road, Walter's Ash."
Sinkholes are a cavity in the ground which can be caused by heavy rain or flooding.
Copyright Press Association 2014