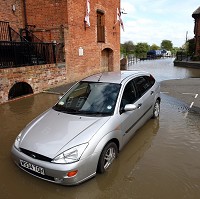 Traffic levels on UK roads fell this spring, with the dismally wet weather and high petrol prices thought to be the main contributing factors.
According to provisional figures released by the Department for Transport (DfT), vehicle traffic from April - June 2012 decreased by 1.0% compared with the same period last year.
However, while car traffic decreased by 0.7%, the real difference in figures came in the category for motorbikes, buses and coaches, which showed a fall of 19.2%.
Light goods vehicles were the only category of motor to show an increase in miles driven, with 1.5% more traffic than spring 2011.
The DfT said the economic downturn was the most likely cause for the decrease, and said the extremely wet weather of April and June may have put people off making all but the most necessary journeys.
The rising cost of motoring, including road tax, car insurance and high fuel prices, may also have been a contributing factor, with the department confirming that petrol remained at more than 140p a litre throughout April.
A DfT statement said: "Concerns about the supply of fuel (from the tanker driver dispute earlier this year) and increases in the pump price may have resulted in people reducing the number and distance of trips they made by road."
Copyright Press Association 2012