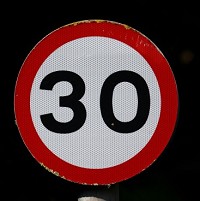 Motorists have been fined for speeding in a 30mph zone following the mysterious appearance of 40mph signs, it has been revealed.
The signs fooled drivers - using a mile-long stretch of the A630 at Thrybergh near Rotherham - into thinking they could travel faster than they could, while police officers operating mobile speed cameras dished out tickets to those who exceeded the limit.
A police spokeswoman says it is thought the signs were put up on lampposts as a practical joke.
She said it is not yet clear how many drivers had been issued with speeding tickets.
Dave Russell, who lives in the village and has received three penalty points after being caught out, says he does not think people should be fined if they were fooled by the fake signs.
He says his daughter had also been caught out, adding that a speed camera van had been operating within yards of one of the signs.
Those caught out by spoof signs are believed to include a driving instructor.
Rotherham Council says the stretch of road has had a 30mph speed limit for years, adding that it has no idea who put up the signs, which have now been removed.
The stretch of road has large 30mph signs at either end but the smaller fake signs were put up on lampposts in between.
Copyright Press Association 2014