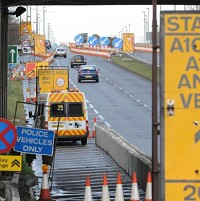 An anti-speeding campaigner claims he has got motorists to slow down in his village thanks to a £10 initiative.
Rodney Thorne, who runs a garage in Frampton, outside Dorchester in Dorset, has converted a vehicle to look like one of the police-operated speed camera vans.
Mr Thorne, 54, did so for the price of a black-coloured magnetic square, which he stuck on the back of his van. The vehicle already had orange and red chevrons to its rear.
Although he says he has received abusive gestures from some drivers, he could be doing them a favour.
RAC spokesman Simon Williams said: "While the enforcement of speed limits is very clearly the responsibility of the police this simple - marginally legal - move appears to have slowed motorists down and improved road safety without the hint of a fine.
"The very thought of a camera, whether real or not or whether working or not, appears to be an effective deterrent."
Convicted speeders can face a minimum three points on their driving licence and £100 fine, as well as the adverse effect it will have on their car insurance premium.
Mr Thorne says that the van has had a "marked" impact on speeding through Frampton.
He says that the villagers have generally received the van in a favourable manner.
Copyright Press Association 2014