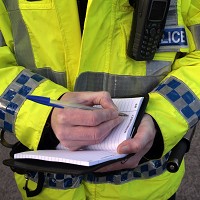 Someone in a silver Volvo equipped with lights and a siren has been posing as a police officer and trying to stop drivers in Plymouth.
One of the drivers he targeted was an off-duty policeman, who was not fooled and did not stop on the A38 at Longbridge last month.
A woman did stop for the man, who was in civilian clothes and driving a Volvo V70, in the Roborough area in April. He told her off for speeding but when she asked to see some official ID, he decided to leave.
A man, 37, has been arrested over impersonating a police officer and freed on bail, Devon and Cornwall Police said. They have also confiscated a Volvo and released photos of it in the hope of finding more people who may have seen the alleged illegal activity.
A police spokesman said it was "a very unusual crime" and not at all common. He suggested anyone pulled over should ask for an official ID, saying any real police officer would happily provide it.
He asked anyone who had been stopped or signalled at to pull over by an unmarked Volvo like this one in the Devon and Cornwall area to contact police.
Copyright Press Association 2013