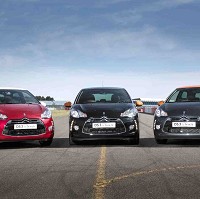 An unusual tie-up between make-up brand Benefit and Citroen is being celebrated ahead of the Silverstone Grand Prix.
Three models now exist in the DS3 special edition range - the DSign Noire, the DSign by Benefit and the Dstyle by Benefit.
As part of the launch, racers and beauty bloggers teamed up to take each of the cars around the track at the home of British F1.
In a fashionable twist, as part of the 'Fast & Fabulous race teams also had take a pit stop between each lap and put on a layer of the Benefit eye-liner product that inspired the car's design.
The DS3 DSign Noire has several stylish details such as 17-inch alloy wheels, sports seas, a fishnet roof graphic, Benefit Orange-coloured mirrors and wheel centre caps as well as air conditioning, a US input port and an upgraded audio system.
Describing the model, Citroen says it is the "little black dress of the car world".
Prices start from just under £15,000 and all models are available to order now.
Copyright Press Association 2014