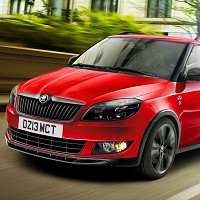 Skoda has announced the addition of two new value-rich Fabias to its already extensive line-up, offering drivers the same high performance but with a more attractive price tag.
The automaker is looking to drive sales of the ageing model before its replacement hits the market in the not-so-distant future.
A Monte Carlo Tech estate version is now available for motorists to get their hands on, boasting Amundsen sat-nav and Bluetooth as well as greater luggage space.
Prices start from just £12,575 on the road, with two 104bhp engines to choose from; the brilliant 1.2 turbocharged petrol and a 1.6 diesel.
The Fabia Reaction, meanwhile, is the second new special edition that Skoda has released. Featuring air conditioning, alloy wheels, a leather steering wheel, a rear spoiler, black detailing and 'sunset glass', it is designed to capture the interest of buyers seeking outright value.
The basic non-turbocharged three-cylinder 1.2-litre unit with 69bhp is the only engine option available, with prices beginning at £9,690 on the road.
Due to the fantastic value of the new Fabias, drivers can afford to splash out a little more on motoring necessities like car insurance .
Copyright Press Association 2013