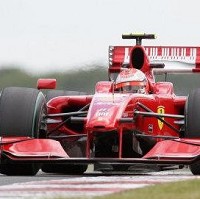 The threat by eight Formula One racing teams to set up a rival F1 circus is damaging Donnington Park`s long-term bid to stage the British Grand Prix.
Boss Simon Gillett has said that problems securing the required £80 million investment are being made worse by the uncertainty.
He also hinted that if the split happens, and teams like Ferrari will not be on the grid, he may be entitled to renegotiate the deal.
In any event, if leading teams leave F1 because of the ongoing budget-cap row, investors might be wary of committing to the 17-year contract that is now in the balance.
Gillett told Radio Five Live's Sportsweek: "It's another speed bump, but you will see Donington has hit enough speed bumps and we are adept at getting over them and pushing forward,"
"It's causing a bit of a slow down, but the people we're dealing with are intelligent people. They read the news, and see it for what it is."
Bernie Ecclestone, who owns the media rights to F1, says that Silverstone, the traditional home of the grand prix and scene of this year`s race, is ready to step in next year if Donington is not ready.
Copyright © Press Association 2009