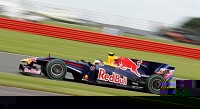 A Formula One breakaway could still be on the cards as rebel teams continue their war with FIA president Max Mosley.
BMW Sauber boss Mario Theissen has pointed the finger at "irritating elements" being to blame for the latest discord to blight the motorsport.
It is believed that the eight member teams in the Formula One Teams Association (FOTA) are refusing to sign a new Concorde Agreement unless they are assured Mosley will not stand again for the presidency.
In an FIA statement after FOTA claimed the future of F1 was again "in jeopardy", the governing body claimed that the signing of the Concorde Agreement - the confidential document that governs the commercial aspect of the sport - would happen "in the coming days."
But Theissen has dismissed the 700-word statement as "over-optimistic".
Relations have soured since a peace pact drawn up between Mosley, F1 supremo Bernie Ecclestone and FOTA chairman Luca di Montezemolo was signed in late June.
Mosley must now reconsider his future after he suggested he would stand again after becoming angry over FOTA's "victory" celebrations in the wake of the £40 million budget cap being axed.
Copyright © Press Association 2009