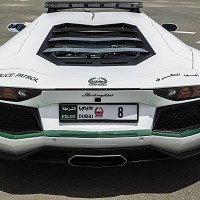 The latest battle in a custody war for a Lamborghini Aventador has been won by Formula 1 heiress Tamara Ecclestone.
The car should now be kept in a garage chosen by her lawyers, instructed Mr Justice Warren at the High Court in London.
Omar Khyami, a former partner of Ms Ecclestone, is arguing that he was given the car as a birthday present, but she denies this.
Ms Ecclestone, 28, the daughter of F1 billionaire Bernie Ecclestone, is said to have bought the car in April last year for £380,000.
Earlier this month the car was removed from a pound in London to a garage owned byElite Performance Cars from whom Ms Ecclestone bought the car originally.
Her lawyer, Andreas Gledhill, told the court that Mr Khyami used the Lamborghini as security for a loan from Elite Performance but that the car never belonged to him in the first place.
Judge Warren said Ms Ecclestone is entitled to know that the car is in a safe place until the dispute about who owns it is resolved.
The couple are said to have split in July last year.
Copyright © Press Association 2013