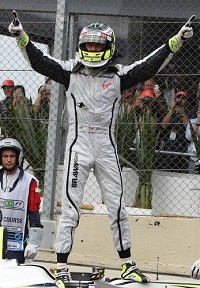 Formula One's new World Champion Jenson Button was not such a winner when it came to driving lessons - he failed his first test at the age of 17.
However, his driving instructor Roger Brunt said he was a star pupil, and only failed his first test because of a minor mistake.
"He took his test after five lessons and failed because he got too close to a parked car on a very narrow street in Trowbridge," he said.
"He had one more lesson and then passed. His father brought him to me and asked me to teach him to drive, and told Jenson to listen to what I say and he did.
"Jenson was a very good pupil, he wasn't a boy racer but he had a quick mind and was very concentrated. He was driving go-karts from the age of eight so it didn't take much to teach him how to drive a car."
Button's racing career began at the Clay Pigeon Kart Club, in Evershot, Dorset, where, as an eight-year-old boy, he raced karts before moving on to cars when he was old enough.
Chairman of the club Mike Wellington said: "We are very proud of our association with him from his earliest days of racing, he still recognises that he started his career here."
Copyright © Press Association 2009