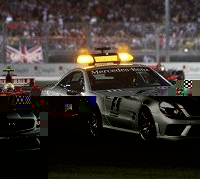 The Formula One watchdog is weighing-up its punishment options after Renault said it would not dispute allegations that former driver Nelson Piquet Jnr was told to deliberately crash during the 2008 Singapore Grand Prix.
The incident resulted in the safety car being deployed to the advantage of Renault's other driver, Fernando Alonso, who went on to win the race - his first in two years.
The Anglo-French manufacturer is hoping the World Motor Sport Council (WMSC) will look favourably upon the decision of team principal Flavio Briatore and executive director Pat Symonds to resign from their positions.
But the idea that Piquet was asked to potentially endanger his own life and the safety of fellow drivers, marshals and spectators is likely to weigh heavy on the minds of the WMSC when they meet on Monday.
FIA president Max Mosley said: If you look at any other sport, if somebody fixes the result then it's usually taken seriously," adding that he considered the incident to be more serious than the McLaren 'spygate' saga.
Copyright © Press Association 2009