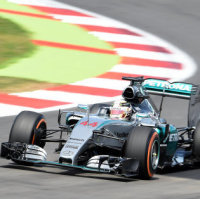 Billionaire Bernie Ecclestone has outlined his hopes of bringing Formula One racing to the streets of London.
He is hoping a London Grand Prix could become a reality as early as next year and says fans would relish the prospect of watching the likes of Lewis Hamilton race his rivals past landmarks such as Buckingham Palace and Hyde Park.
The chief executive of the Formula One Group - which controls the commercial rights to the sport - has told ITV News London that a London Grand Prix would be "fantastic".
He says if the race can be put on "we'd love to do it", adding that the event's financing would be the only "small technical issue" that would need resolving.
Proposals for the event have been put on hold because legislation is needed to enable councils to shut roads for high-speed races, an issue the Department for Transport has said will be looked at in "due course".
Last year saw London's Battersea Park hosting Formula E races, which feature electric-powered cars capable of reaching speeds of up to 140mph.
Copyright Press Association 2016. Motoring News articles do not reflect the RAC's views unless clearly stated.