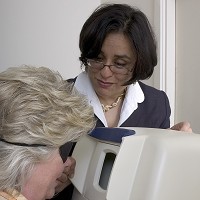 During the last decade almost one in 10 people have failed to have an eye test, optometrists say.
Around 9% of British adults claim they have not had an eye test during the last 10 years or cannot remember having one, according to the College of Optometrists, who surveyed 4,032 people.
The college is warning people that some eye conditions do not have symptoms so even if you do not think you need a test it is wise to make an appointment. Taking care of your eyes will ensure you can drive safely and keep yourcar insurance costs to a minimum.
The College of Optometrists' clinical adviser, Dr Susan Blakeney, said: "86% of people value their eyesight above any other sense and over two-thirds of people wear corrective lenses of some sort.
"However, it often takes a big change in vision or health for people to visit an optometrist to find out what's going on, and that may be too late to reverse any damage to sight, especially if you are in an at-risk group.
"Most people will probably be fine but it's worth remembering not every eye condition has symptoms so regular check-ups, unless otherwise advised by your optometrist, are vital to maintain healthy eyes."
People should have a test every two years, with people over 40 and those from an African Caribbean background more prone to eye problems like glaucoma. These people should have regular check-ups.
Copyright Press Association 2012