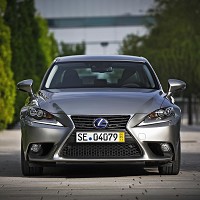 Owners of the new Lexus IS saloon can add a suite of advanced safety features and driving aids to their vehicle with an additional option pack.
The pack, which costs £1,540, is available exclusively to the flagship Premier versions of the new IS 250 and full hybrid IS 300h.
It includes the Pre-Crash Safety system (PCS), which uses a millimetre-wave radar sensor that operates over a 20-degree scanning radius to detect obstacles in the vehicle's path, as well as Adaptive Cruise Control (ACC), Lane Departure Assist (LDA) and Automatic High Beam (AHB).
The PCS system will alert the driver with a buzzer and warning on the multimedia display if there is a high risk of a collision, also activating the Pre-Crash Seatbelt pretensioners and providing Pre-Crash Brake Assist.
The ACC can operate on a set constant speed or monitor the speed of the car in front and keep a prescribed distance, while the LDA system will alert the driver if it detects the vehicle is deviating from its lane without the turn signals being used.
Having such features could help to reduceinsurance premiums for drivers. Meanwhile, the AHB function maximises night-time visibility by automatically switching headlamps to low beam when the system's camera detects the lights of an oncoming vehicle, or one travelling ahead.
Copyright Press Association 2013