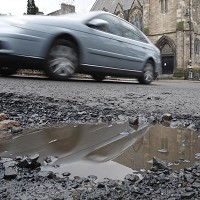 Local authorities that have demonstrated "best practice in highways maintenance" will be rewarded with extra cash to repair potholes.
A funding pot of £168 million is to be shared out between 148 councils in England, but those who have taken the best care of their roads will receive a bigger chunk, it has been revealed.
Potholes are the scourge of many a motorist. They can cause damage to vehicles and lead to infuriating car insurance claims.
The money is going towards filling more than three million potholes by March 2015. It is the largest amount of cash invested in roads since the 1970s.
Councils will also be awarded with specialist machinery used to treat their roads and dedicated repair teams being scrambled to fix the damage.
Northamptonshire will be rewarded with £3.3 million after it put in place systems to monitor pothole repairs in real time, enabling it to send out teams and organise work more effectively.
Hampshire will receive about £6 million and Lancashire will get £4.9 million.
Local authorities will be required to publish updates on works on a quarterly basis so residents can keep up to date with the progress of the repairs.
Copyright Press Association 2014