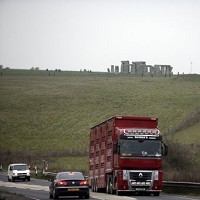 Plans to send motorists using the main road near Stonehenge through a 1.8-mile tunnel are being assessed by global heritage experts.
The Government put the proposed tunnel in its road-building programme last year after the original plans were dropped in 2007.
The United Nations Educational, Scientific and Cultural Organisation (UNESCO) had backed the original plans and has now sent its experts to the World Heritage Site to run the rule over the new proposal for the A303.
Officials from the International Council on Monuments and Sites are also visiting the site as guests of the Department for Culture, Media and Sport.
The prehistoric site is managed by English Heritage while the National Trust owns the land around it.
While they and Historic England back plans for a tunnel, the Stonehenge Alliance and others have said they believe it could endanger the iconic site.
The plans are also being backed by senior druid King Arthur Pendragon on condition that any human remains which are uncovered by the tunnelling work are re-interred as near as possible to where they were found.
Copyright Press Association 2015