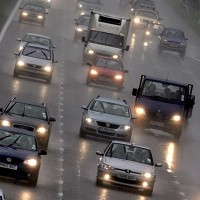 Motorists have been offered a series of tips for driving in frosty and icy conditions as the first of the wintry weather moves in.
Road safety charity the IAM offers weekly driving advice from Britain's top advanced driver, Peter Rodger - who warns that stopping distances can be as much as 10 times longer on ice.
Allowing the vehicle in front plenty of space is of paramount importance, and if your car does lose grip on the road and starts sliding sideways, Mr Rodger advises taking the foot off the accelerator and pointing the front wheels in the direction you want to go.
For prudent drivers who already take extra care in winter, ensuring their breakdown cover policy is up to date and driving sensibly at all times, Mr Rodger's tips may provide added peace of mind.
He suggests motorists should stick to the main roads where possible as these are more likely to be gritted; be sure to travel with de-icer and a scraper and clear the whole windscreen before setting off.
If the road is slippery when starting off then the expert suggests doing so in second gear, releasing the clutch and accelerating gently and keeping revs to a minimum.
And while driving in frosty or icy conditions he says it is best to stay in the higher gears where possible to avoid wheel spin.
Mr Rodger adds: "It seems obvious, but cars go in ditches every winter because drivers haven't taken icy roads seriously enough.
"If it's cold outside treat wet looking patches with great care - they could be ice, not water."
Copyright © Press Association 2013