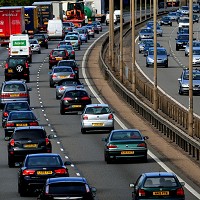 One of Britain's top driving experts is advising motorists on how to stay safe behind the wheel in the New Year.
Peter Rodger is offering weekly road safety tips to drivers on behalf of road safety charity the Institute of Advanced Motorists (IAM).
Mr Rodger's tips for improving driving in 2013 include maximising your view by using lights on full beam and ensuring windows and mirrors are kept clean.
Driver's are also advised to boost their view behind the wheel by getting regular eye check ups.
The NHS recommends that motorists get a test every two years especially as eyesight issues can be intensified in the dark.
Ensuring the vehicle is thoroughly cleaned and the fluid level, tyre pressure, lights and other essentials are checked regularly is also vital.
Thorough preparation before setting off such as packing weather-appropriate supplies and consulting ajourney planner could also be useful.
IAM chief examiner Peter Rodger said: "The New Year is a common time for people to sit back, reflect and evaluate their goals for the upcoming year. Why not begin by incorporating your driving behaviour into your list of resolutions for 2013?"
Copyright Press Association 2012