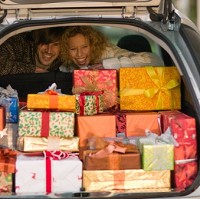 Driving safety charity the Institute of Advanced Motorists (IAM) is releasing weekly motoring advice from expert Peter Rodger. This week, he is giving tips on how to protect your car and belongings at Christmas.
The IAM head examiner said that shopping for Christmas gifts is often stressful but drivers can prevent any additional hassle by keeping their vehicle secure.
Mr Rodger says that drivers can help deter thieves this season by parking in an illuminated and spacious area. Local authority car parks - some of which may be free this month - could be ideal.
He adds that all costly possessions (even wrapped presents) should be kept hidden in the boot, glove box or beneath the seats.
He also recommends that drivers purchase a steering lock, which could prevent vehicles from being targeted.
As well as hiding any GPSjourney planner devices, drivers should also get rid of any obvious signs of one, including holders and suction marks on windows.
Rodger warned: "The combination of cold weather and the approach of Christmas sends shoppers to local shopping centres and supermarkets. Don't let your car become a target for thieves while you wander round the lingerie department."
To help promote car security this season, the IAM has set up a new website,drivingadvice.org.uk , with traffic and weather information as well as road safety advice.
Copyright Press Association 2012