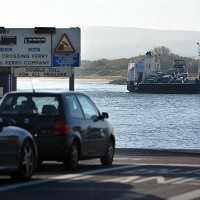 Britain's top advanced driver, Peter Rodger, has offered a series of tips for motorists taking their vehicles on a ferry on their way to St Patrick's Day celebrations.
With many revellers set to go overseas for the festivities, Mr Rodger, a regular tipster for the Institute of Advanced Motorists (IAM), has come up with a few things people should think about to avoid being left disappointed or stressed.
The main point he made is that motorists should make sure they book early to avoid missing out because during holidays the ferries tend to book up quickly.
A handy tip to make the booking process go more smoothly could be for drivers to measure their vehicle beforehand because they may be asked for its dimensions later.
Vehicles that turn up to a ferry with a rear bike or roof rack could also risk picking up an additional charge.
Mr Rodger also recommends that when drivers are told to park as close as they can to the car in front once on the ferry they should make sure there is at least a small gap to reduce the risks of having a bump.
His final words of wisdom were warning drivers not to carry around spare fuel cans because some ferry firms do not allow them on board.
"Following guidelines and procedures throughout your journey will ensure you have a hassle-free and enjoyable St' Patrick's Day weekend," Mr Rodger added.
"And remember, if you're driving, don't drink - make it none for the road."
Copyright Press Association 2013