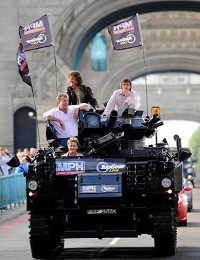 Tickets for the the 2009 MPH event featuring Top Gear Live shows are expected to sell out when they go on sale next week.
Last year an unprecedented number of fans tried to get their hands on tickets for shows in London and Birmingham, but many were left disappointed after they sold out with weeks to go.
MPH show director, Charlotte Aldiss, said: "Already Jeremy and the Top Gear Team are working hard on what promises to be an unmissable show. We're expecting this year's event to sell out quicker than 2008."
Some of the world's most exclusive super cars have been lined up for the event, which will start at London's Earls Court in November before moving on to Birmingham's NEC later in the month.
Manufacturers Aston Martin, Bentley, Caparo, Ferrari, are among the iconic names taking part, with the collection pushing insurance up to £1 billion.
The 75-minute live show will be led by Jeremy Clarkson playing ringmaster and will feature stunts, automotive mayhem and some of the most prestigious new cars on the planet.
Copyright © Press Association 2009