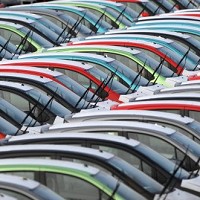 The range of exciting and increasingly fuel-efficient models is helping to drive the best car sales figures in a decade, according to an industry expert.
The Society of Motor Manufacturers and Traders (SMMT) announced that 425,861 new cars were sold in the UK in September - 5.6% higher than the same month last year and the 31st consecutive monthly increase.
SMMT chief executive Mike Hawes said the figures demonstrate the buoyancy in the UK's new car market, but last month's figures are even more impressive given the strong figures from September 2013.
Mr Hawes said consumers are being attracted to new cars by the wide variety and the impressive fuel efficiency of modern engines.
He added that since March, when there was a massive 18% increase in registrations, there has been a slowing of the growth which shows the market is finding its "natural running rate". He added that demand for the new 64 plate - which was released last month had been strong.
In total almost two million new cars have been sold in the UK this year, up 9.1% on the same period last year.
March and September are the months that new registration plates are released in the UK, and so visit RAC Cars to find a new car in time for the latest registration plates.
Copyright Press Association 2014