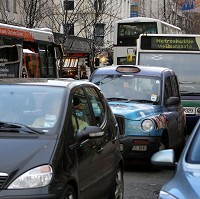 Changing driving habits can help cut motoring bills by as much as 15% as well as reducing CO2 emissions, according to the UK's top advanced driver.
Peter Rodger, the IAM's Chief Examiner, is offering drivers a host of tips to help them drive more economically, such as making less use of their brakes by slowing down and taking their foot off the gas earlier when nearing queues and junctions.
Turning off the engine in a traffic jam is good advice, as is of course, sticking to speed limits. Not only does driving at 70mph on a motorway use up less fuel than going at 80mph, it also means drivers won't be caught for speeding.
Block gear changes when speeding up or slowing down is more fuel efficient than moving through gears one by one.
Drivers who reverse park don't have to manoeuvre with a cold engine and can drive straight off on returning, while making sure tyres have sufficient tread and pressure also adds to efficiency, as well as reducing the likelihood of having an accident and making acar insurance claim.
The last tip is removing all unnecessary weight from cars as heavier cars use more fuel, Mr Rodger said.
Copyright Press Association 2014