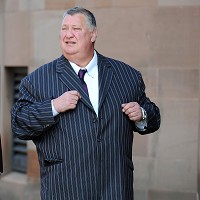 A former police authority chairman who was this week convicted of perverting the course of justice will face a second charge at magistrates court on Friday.
Dave McLuckie - who was once chairman of Cleveland Police Authority - was staring at a driving ban before he got a friend to take three penalty points on his behalf, Newcastle Crown Court heard on Tuesday.
But he was convicted of perverting the course of justice and faces a jail sentence, on top of answering a second charge of witness intimidation.
In 2005, McLuckie was vice-chairman of the police authority and about to step into the chairman's role. He already had nine points on his licence and would have been banned from driving and almost certainly would have lost his job as chairman if he received another three.
So when his black Peugeot was caught on a speed camera doing 36mph in a 30mph zone at Carlin Hill, Cleveland, he asked family friend Maurice Ward to take the points.
The 52-year old is a member of Redcar and Cleveland Council and works at a potash mine.
The crime was uncovered when Mr Ward, who was suffering from cancer, fell out with McLuckie for not visiting him.
Mr Ward died in January 2012, but before he did he wrote a letter admitting he had taken the points for his former friend. Mr Ward's daughter Donna found the letter and contacted a local councillor, who referred it to the police.
McLuckie will appear at Newcastle Magistrates' Court on Friday to face the witness intimidation charges.
Copyright Press Association 2013