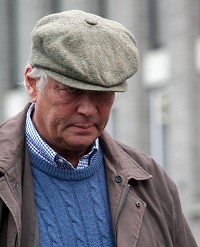 A man has pleaded guilty to drink-driving while he was a sitting judge at Liverpool Crown Court.
Chorley Magistrates' Court was told that Mr Macmillan, 63, was stopped on the M6 during the summer with an empty can of the energy drink Red Bull and a half-full litre bottle of vodka in the passenger footwell of his car.
He had been arrested after a policeman saw him driving erratically and pulled him over.
When asked, he denied he had been drinking in the last 20 minutes but failed a roadside breath test, prosecutor Adrian Hollanby said.
When officers at Leyland police station tested the former judge again, he was found to have a reading of 111 micrograms in 100 millilitres of breath - the legal limit is 35 micrograms.
Three weeks after committing the offence, Macmillan was arrested in Liverpool for allegedly being drunk in charge of a motor vehicle, before he was released on conditional bail.
Following his second arrest he resigned as a circuit judge, giving up a £128,000 annual salary.
Macmillan will be sentenced for the charge of driving with excess alcohol at Chorley Magistrates' Court on November 12.
Magistrates imposed an interim driving ban and he was released on unconditional bail.
Copyright © Press Association 2009