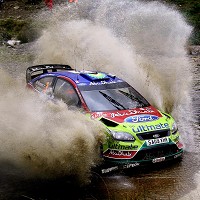 The Ford Focus is the best-selling car model in the world this year, outselling the competition in the first six months of 2012 according to global data provide by IHS Automotive.
The Focus nameplate accounted for 489,616 units as compared to its nearest challenger, the Toyota Corolla, which tallied up 462,187 sales.
As well as celebrating that achievement, Ford is also on the verge of another major milestone - the 350 millionth vehicle produced in the company's illustrious history. It is expected that the car in question will be a Focus, produced in the company's factory in Rayong, Thailand.
Commentating on the sheer scale of numbers, Ford executive vice president of Global Manufacturing, John Fleming, said, "It's equivalent to producing one vehicle every 10 seconds for 109 years; and, if placed end to end, would stretch to the moon and back - twice."
As more and more cars roll off the production line, and no matter how popular or reliable your car nameplate is, it is always advisable to ensure that yourbreakdown cover has been renewed.
Copyright Press Association 2012