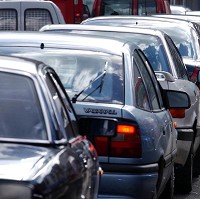 Most Europeans want to keep their cars but are increasingly concerned about congestion on the roads, as well as driving costs and the effect of motoring on the environment.
That is the finding of a survey sponsored by Ford Motor Company in order to understand the views and attitudes of Europeans on issues ranging from car sharing and eco-friendly driving to the future of the internal combustion engine.
Increasing pressures on road-users show the importance of covering all the vital expenses of motoring such as possessing adequate breakdown cover .
Although the figures showed that most people polled thought life without a car would be "impossible", just over three quarters (76%) reported being stressed by congestion and fuel prices.
Other figures revealed that 74% of Europeans use public transport, 37% share cars on the same trip and three per cent are involved in formal car sharing.
The survey, carried out by consultancy The Futures Company, showed public dialogue was needed as well as the stakeholders addressing mobility and responsibility for the environment, said Ford of Europe's vice president for product development Barb Samardzich.
People want to keep freedom of mobility even with the world getting more crowded and increasingly urbanised, said Samardzich who urged "a collaborative and integrated approach".
Copyright Press Association 2012