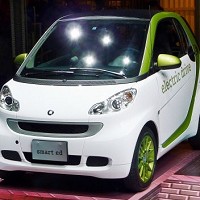 New European car sales grew by 6.9% last month, according to the latest figures.
The European Automobile Manufacturers' Association (ACEA) data showed that there were 80,000 more people buying a car in Europe in April 2015 than April 2014.
The rise from 1.13 million to 1.21 million relates to motorists in the EFTA, a free-trade association comprising Switzerland, Iceland, Norway and Liechtenstein, and the EU.
Released on Tuesday, the statistics reveal that demand was strong in France, Germany, the UK, Spain and Italy, while sports utility vehicles (SUVs) and budget brands also helped to push up figures.
The recovering economies of Spain and Italy have seen a boost in confidence after being hit hard by the financial crisis in the Eurozone.
Car sales in Spain were up by almost a quarter (24%) in the opening four months of 2015, Italy saw demand go up by 16% and the UK by 6%.
The 4.85 million units sold across the region in the opening four months of 2015 were 8.1% up on the same period last year.
France was one of the biggest drivers of Europe-wide growth. Renault SA, for example, was the continent's quickest-expanding mass producer, with 87,520 cars representing a 15.6% sales growth. This took the firm past competitors such as General Motors' Opel, Volkswagen, Fiat, Peugeot and Ford.
Daimler's Smart brand and Mini from BMW both performed strongly at 49% and 34% growth respectively so far in 2015.
Renault-owned Dacia and Volkswagen-owned Skoda, the Czech budget brand, both outdid the mainstream European motor market last month, posting growth figures of almost 15% and 10% respectively.
European SUVs enjoyed robust sales last month, with sales of Porsche's Macan compact growing by 18.4% in April.
The accolade of Europe's quickest-growing brand so far in 2015 goes to Fiat Chrysler-owned Jeep, with sales already clocking 28,816, a rise of 186%.
But Germany had a month to forget with Daimler AG, Audi AG and BMW AG all reporting slow trade.
The ACEA said that all of Europe's leading markets reported an upsurge in sales, leading to the general growth across the EU car market.
Copyright Press Association 2015