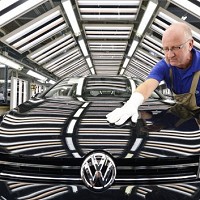 This year's European car manufacturing recovery is going to be even better than first thought, according to revised estimates.
Experts predict that the continent is on schedule to sell 13 million vehicles in 2015.
European Automobile Manufacturers Association (ACEA) officials believe that car registrations will grow by 5% by the end of December.
This nudged-up calculation has been made following healthy growth figures of 6.8% from January to May this year.
Industry specialists pointed to 2014 as a watershed for the European car sector.
Europe recorded its first rise in new passenger car registrations - to 12.6 million - for seven years, before the start of the global financial crisis.
This momentum has been sustained during the opening five months of this year.
But to put this year's predicted performance into context, eight years ago there were nearly three million more units sold as Europe-wide car sales approached 16 million.
Despite the rise in the amount of motorists buying a car from the European manufacturing stable, the ACEA has warned against complacency within the trade.
European car-makers are still facing challenging conditions, said Erik Jonnaert, the association's secretary general.
Mr Jonnaert cautioned that EU-based car sales still lag behind those of both China and the US. He said that these areas' car manufacturers are today enjoying pre-crisis levels of sales.
The official called on EU policymakers to foster conditions which encourage global trade and innovation. These are the two primary drivers for the European car sector to compete worldwide, he said.
Mr Jonnaert warned of the competition from China and the US.
He said this renders it more key than ever before to make sure that EU and member states' governments continue to prioritise giving support to fuel the industry's competitiveness.
Copyright Press Association 2015