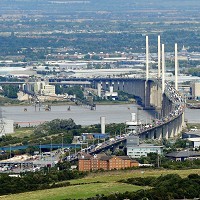 The Highways Agency is using a debt recovery firm to obtain fines from almost 19,000 foreign drivers who have not paid to use the Dartford River Crossing.
A total of 130,306 motorists avoided paying to use the bridge over the Thames and the tunnel under the river while driving on the M25 in December - and 18,716 of them were from overseas.
Toll booths have not been used since the end of November with motorists now having to pay by phone, online or via an account.
Over half of the 130,306 penalty charge notices have been paid (73,898) and money was received for nine in every 10 uses of the crossing in December, the Highways Agency reveals.
RAC Foundation director Professor Stephen Glaister said: "There are a significant number of foreign drivers trying to avoid the charge. It will be interesting to see what success rate the debt collection agency achieves chasing hauliers and motorists once they leave these shores.
"And once again, it begs the question: why can't people be made to pay at the ports before they depart the UK?"
Copyright Press Association 2015