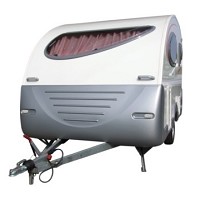 EU proposals to make caravans, trailers and classic cars undergo MoT tests have been altered after coming under considerable pressure.
The plans would have meant small businesses and members of the public across the continent having to ensure their trailers and caravans had mandatory MoT testing and some historic vehicles could have been taken off the road if they were modified.
However, EU transport ministers in Brussels have now adjusted the proposals and UK Road Safety Minister Stephen Hammond says he will "strongly lobby" for the changes to be carried out and that they are a positive step.
"This is a victory for common sense. The original proposals would have hit British businesses and motorists with massive additional costs for no good reason," he said.
"The concessions we have secured will ensure that cost burdens are kept as low as possible, enabling the UK to maintain its proven testing regime and high road safety standards while providing some additional safety benefits across the EU."
Vehicles registered prior to 1960 will still clearly require car insurance like any other car but will continue to be exempt from MoT testing and UK testers and regulators can use their expert judgment to allow modified classic vehicles to pass MoTs as long as they are safe.
Copyright Press Association 2012