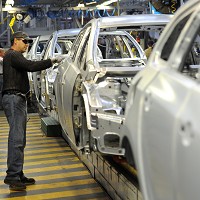 Membership of the European Union (EU) has helped Britain improve its car industry and encouraged more manufacturers to invest their money here, according to a new report.
KPMG's UK Automotive Industry and the EU report, released by the Society of Motor Manufacturers and Traders (SMMT), reveals membership has increased investment, growth and job creation.
By examining the relationship between Britain and the EU, the report's authors concluded that the country is much more attractive to investors because of its membership of the Single Market, which has helped it make and sell more cars and also provided benefits for businesses in the supply chain.
Being part of the EU has also helped Britain export vehicles to more emerging global markets, it said.
But the report suggests the British car industry needs a stronger voice in the EU to make sure it remains competitive and diverse and its needs are met.
Copyright Press Association 2014