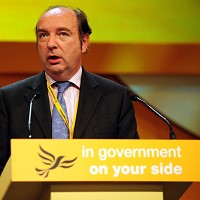 Moves that could save motorists hundreds of pounds a year are being opposed by the UK Government, according to environmental campaigners Greenpeace.
The group claims leaked documents show that UK members of the European Parliament are being briefed by the Department for Transport to oppose EU amendments to regulations on cutting CO2 emissions from cars.
The amendments would include new, tougher, long-term emission targets for vehicles made from 2025. But Greenpeace says Transport Minister Norman Baker is blocking the proposals put forward by fellow Liberal Democrat Fiona Hall, representing the European Parliament's Industry, Research and Energy Committee.
Greenpeace says the proposed long-term target could cut vehicle carbon emissions in half and save drivers £400 a year by forcing the vehicles they drive to be more fuel efficient.
A spokeswoman for the Department for Transport said: "It is important to strike the right balance by supporting ambitious targets, while ensuring we do not hinder industry growth or competitiveness and encourage continued investments in low- carbon vehicle technologies in the EU."
Copyright Press Association 2013