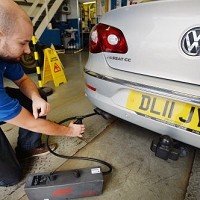 Emissions testing in the European Union is to get stricter in the wake of the recent Volkswagen scandal.
It should mean that motorists buying a car fuelled by diesel will get greater peace of mind that their car meets environmental standards and is not excessively polluting the air.
EU officials say the new tests will reflect real-life road conditions within the next two years. This trailblazing announcement will make the region the first on the planet to implement such rigorous testing regimes, according to Elzbieta Bienkowska, EU Commissioner.
Under these latest standards, carmakers will be given a five-year time-frame to get them near to real-life emissions standards.
New motors will need to get through the test prior to being put in showrooms from September 1 in two years' time. The new rules come after the revelations at VW which showed earlier procedures to be flawed.
The crisis has hit the German manufacturing giant hard. Earlier this week VW announced losses of about £2.5 billion for the July-to-September quarter.
The firm said it had to put by around £4.8 billion in order to cope with the scandal, otherwise its three-month profit would have been roughly £2.3 billion.
A huge majority of representatives from the 28 countries passed the new EU emissions tests standards.
These will give carmakers leeway to exceed legal limits until September 2017. This deadline is being extended until two years after that for new cars.
Motor manufacturers have hitherto found methods of cutting emissions test corners without breaking the law.
So-called golden vehicles have been used to successfully get through the tests. Tricks are employed such as taping over the doors to minimise air drag or removing all back seats to lower the weight.
What ploys such as this have actually meant, however, is that new motors are typically exceeding limits by around 400% when on the roads.
Copyright Press Association 2015