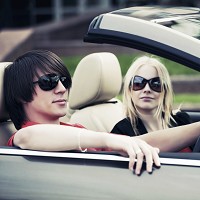 Drivers who turn up to first dates in a Mercedes-Benz car are the most likely to impress, as long as they are not estates, new research suggests.
The Europcar study claims estate cars are perfect for moving belongings and doing a variety of jobs, but are not likely to make a lasting impression on a potential partner.
According to the study women are put off by their practicality and just 1% of those polled said they would drive to a date in an estate if they had the choice.
Car insurance on sports cars and coupes might be high, especially for young drivers, but they are the top choice for more than a fifth of motorists. Around a quarter of 25 to 34-year-old drivers (23%) consider it important to have the right kind of car when going on a first date, but just under a half class having a nice smile as more important when meeting a potential partner.
The judgements people regularly make are more common on first dates, according to Europcar UK Group Managing Director Ken McCall. He said a nice smile and a smart car go along way to making sure there is a second date.
Copyright Press Association 2014