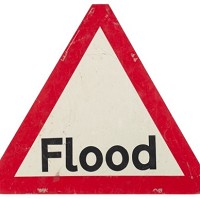 The Environment Agency is preparing to issue dozens more flood warnings, marking a sea change in the weather in the UK after a warm September so far.
A number of flood alerts are already in place around the country and forecasters are predicting up to 60mm rainfall and 60mph winds in the next 36 hours, with areas in the South West, northern England and Scotland particularly at risk of flooding.
Some of the UK experienced temperatures in the mid-20s earlier in September but Paul Mott, senior meteorologist at MeteoGroup, the weather division of the Press Association, says a major change in the country's weather is occurring.
"There is going to be a big change in the weather from what we have had recently," he said.
"There is likely to be some localised flooding, and gusts of up to 60mph in parts of Scotland, which is enough to pull up the odd tree."
The Environment Agency has warned people in many areas to be prepared to experience significant disruption to travel, so having up-to-datebreakdown cover will be more important than ever.
And the agency's director of operations, David Jordan, says that flooding is expected in many regions on Monday and Tuesday. He is warning communities and residents to make sure they and their properties are ready.
"We are expecting flooding across the country from this evening and in to Monday and Tuesday," he said.
Copyright Press Association 2012