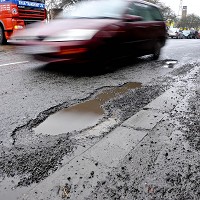 Nearly a third of all English roads are in need of repairs, according to a study by the GMB union.
The research found that English roads are in a "shocking" state, with one in 20 having deteriorated "considerably" in the past year.
The worst roads were found on the Isle of Wight, with more than 50% needing repairs. The roads in North Lincolnshire were named the second worst, followed by those in the City of London and Nottingham.
GMB said the poor road conditions have led to a surge incar insurance claims in some parts of England.
GMB national officer Brian Strutton said: "It is clear from the official data that our roads are in a shocking state with almost a third needing attention.
"Many roads are so broken up and strewn with potholes that motorists are suffering damage to wheels and suspension, with compensation claims up by 40% in some parts of the country.
"Local authorities are cutting back on road maintenance because of the budget cuts forced on them by the government so the problem is likely to get worse.
"Indeed, even when repairs are being carried out it is often done on the cheap to a low standard so it's soon in a mess again. Every community has a right to expect decent roads and councils should be recognising this as a priority."
Copyright Press Association 2012