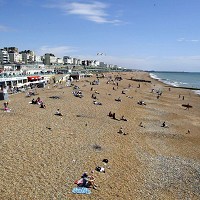 Drivers heading off for an early weekend face ideal weather with the heat due to hit England.
Thursday's late morning will see the clearing of fair weather cloud, leaving us with lots of sun and a south-westerly breeze, so says MeteoGroup forecaster Sean Penston.
The temperatures are to reach 27C (80.6F) and perhaps even 28C (82.4F) for London and Essex - leaving Spain, Portugal and Turkey in the shade.
These figures will ensure more heat in central England than Faro in Portugal, and the region will be one degree warmer than Barcelona, as well as being far hotter than Istanbul which can expect a high of 24C (75.2F).
Tennis fans waiting for day 11 of Wimbledon can look forward to a dry, warm day, perhaps as some compensation for the defeat of Great Britain's 2013 champion Andy Murray.
Meanwhile, northern England, parts of Wales and Northern Ireland will see patchy rainfall, while some showers will fall in the west of Scotland.
Friday will also be warm but things will start to cool down by the weekend to about 20C (68F) or 21C (69.8F).
2014's highest temperature to date is 26.8C (80.2F) in Southampton on June 13, says MeteoGroup.
Copyright Press Association 2014