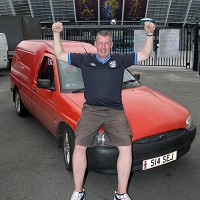 No one can accuse England fan Andrew Jolly of not putting in the miles to support the Three Lions.
The 45-year-old has driven his battered red Ford Escort van from his home in Dunstable, Bedfordshire, to follow England in Ukraine.
The die-hard fan has clocked up almost 3,000 miles already, but that could be doubled if Roy Hodgson's side reach the final on July 1.
Mr Jolly, who became hooked on supporting England in 1988, spent four days driving to their opening game in Donetsk. He took the Eurotunnel to Calais before passing through France, Belgium, Germany, Czech Republic, Slovakia and across Ukraine, sleeping in the van most nights.
After being sold watered-down fuel, damaging his van's suspension by driving over giant potholes and having a wheel fall off, the eastern part of his trip has been the one whereEuropean breakdown cover would have come in most useful.
"It was okay until Slovakia," Mr Jolly said.
"That was like going back 60 years. Some of the potholes were six feet wide and one foot deep.
"I also got fined by the police because I didn't realise you have to have your headlights on all the time."
Mr Jolly has also struggled to cope with driving in Ukraine, where he said the signs are difficult to understand, the road conditions are "terrible" and he has to be on constant alert because of the low standards of other motorists.
Copyright Press Association 2012