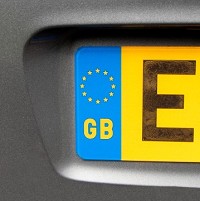 A London man will be the envy of all England supporters during the Euro 2012 tournament after acquiring a new car registration plate spelling out EN61 AND.
It had gone under the hammer at £15,600 to Brian Brody at the DVLA Personalised Registrations auction. The Olympic-themed event, which had gained £122,400 from the first 50 items, was held on Thursday and took place at City Hall in the capital.
Mr Brody, from St John's Wood, said it was the "perfect way" to show his allegiance to the England team during the European championships. The registration plate that the 66-year-old won was the most popular in the auction along with another called BU11 DOG, the latter selling for £16,400.
Iwan Thomas, a former athlete and Olympics ambassador, appeared at the auction to sell two registration plates made in tribute to his silver win in the 4x400 relay at the Atlanta Games more than a decade ago. One was REL 44Y which sold for £730 and the other - RUN 3R - fetched £2,548.
The sale also received official licensee status for the London 2012 Olympics.
Copyright Press Association 2012