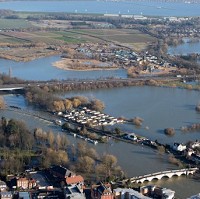 Significantly more money needs to be spent on flood protection in order to avoid a repeat last winter's extensive damage.
That's according to a report by the National Audit Office (NAO) assessing the state of flood defences in England.
It claims that half of them - equating to 1,356 schemes - looked after by the Environment Agency are only being maintained to a "minimal level" because they deliver lower benefits than other assets.
This means they are likely to deteriorate quicker, therefore increasing flood risk, putting tens of thousands of households at risk, and potentially require more expensive emergency solutions in the future.
Widespread flooding devastated large parts of England last year during what was the wettest winter on record.
In response, the Government made an extra £270 million available, including an additional £35 million in each of the next two years for maintaining defences, but the NAO claims this is still not enough.
It believes current budgets will come under pressure if extreme weather events hit England once again.
The report reveals that total funding for flood protection, minus the cash injection in the wake of the flooding last winter, has actually declined by 10% since 2010.
Copyright Press Association 2014