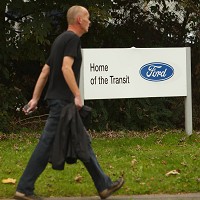 Up to 1,500 UK jobs will be lost when Ford closes its Transit van factory and a second plant in the UK.
One union official called the news "devasting" after a meeting at which company representatives told union officials about the closures.
Next summer Ford will close its Transit van factory in Southampton, resulting in a loss of 500 jobs, as well as a plant in Dagenham, Essex.
Up to 1,500 jobs will be lost with the closures, union officials said, though a number of new jobs will be created to build Ford's new Panther engine at its Dagenham engine factory.
Ford is reportedly offering a generous redundancy package and redeployment to those workers who want to continue to work for the company.
"This is devastating news for the workers in Southampton and Dagenham and is very bad news for UK manufacturing," the national officer of the GMB union, Justin Bowden, said.
"Ford's track record in Britain is one of broken promises and factory closures. There will be a feeling of shock and anger, and Ford's commitment on investment will cut little ice."
In abreakdown of figures, about 11,400 UK workers are employed at Ford plants including Bridgend in South Wales, Dagenham and Halewood on Merseyside.