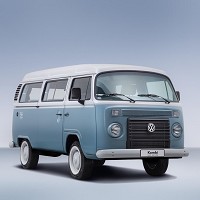 One of the most iconic and joyous sights on Britain's roads has rolled off the production line for the final time.
Volkswagen finally stopped producing the Kombi, which has provided the base for countless campervans earlier this month.
The final record-breaking VW Kombi was completed in Brazil on December 20.
This brought to an end the world's longest continuous running production life of any vehicle yet recorded - following 63 years in production.
Over 3.5 million Kombis have been constructed in Germany and Brazil.
They have been produced as panel vans, pick-up trucks, crew cabs and the popular campervan.
New South American health and safety legislation is behind the Kombi's demise.
All new vehicles must now be fitted with ABS anti-lock brakes and driver and passenger airbags as standard, and it is too costly to re-vamp the Kombi to include these features.
Several of the vehicle names linked to the Kombi have now become as famous as the van itself.
Transporter, Camper, Bus and Type 2 are all immediately recognisable.
Copyright Press Association 2013